We have decades of military-inspired fashion to thank for a popular staple item in London men's closets: military boots.
Men's shoes continue to be a hot topic in London fashion, particularly with styles than lend versatility to the wardrobe. The military boot is one of these styles, giving men a viable option for special occasions or everyday wear.
They're practical and comfortable, but most importantly, the styles are about as varied as the people who wear them.
Military Boot Styles: Then and Now
Military boots (or often referred to as combat boots) have seen their fair share of evolution, especially since the style has entered civilian closets.
But today's modern boot looks strikingly different than it has in the past.
Originally, combat boots were very much like their military-use counterparts. They were tall and tight with extensive lacework. The height helped to protect the wearer from the elements, particularly in the winter. The form-fitting style also allowed for movability and protection.
Leather or similar material was the top choice, given its versatility, endurance, and ability to be cleaned well. Leather tends to get better with age, and combat boot wearers could make their shoe investment last.
While leather remains a go-to choice for modern military boots, it's now being rivaled by suede. It's a sensitive material that removes the tactical aspect of the military boot, but it also adds a casual vibe that is attracting the attention of London gentlemen.
The boots have also seen a decrease in height to reflect the ankle-length of other boot styles. This has arguably been the biggest style shift that blends old-school traditions with modern desires.
The contemporary nuances that made military boots so popular in the first place remain in tact. Chunky zippers, heavy-duty soles, and robust elements reflect the commitment to durability that military boots have instilled.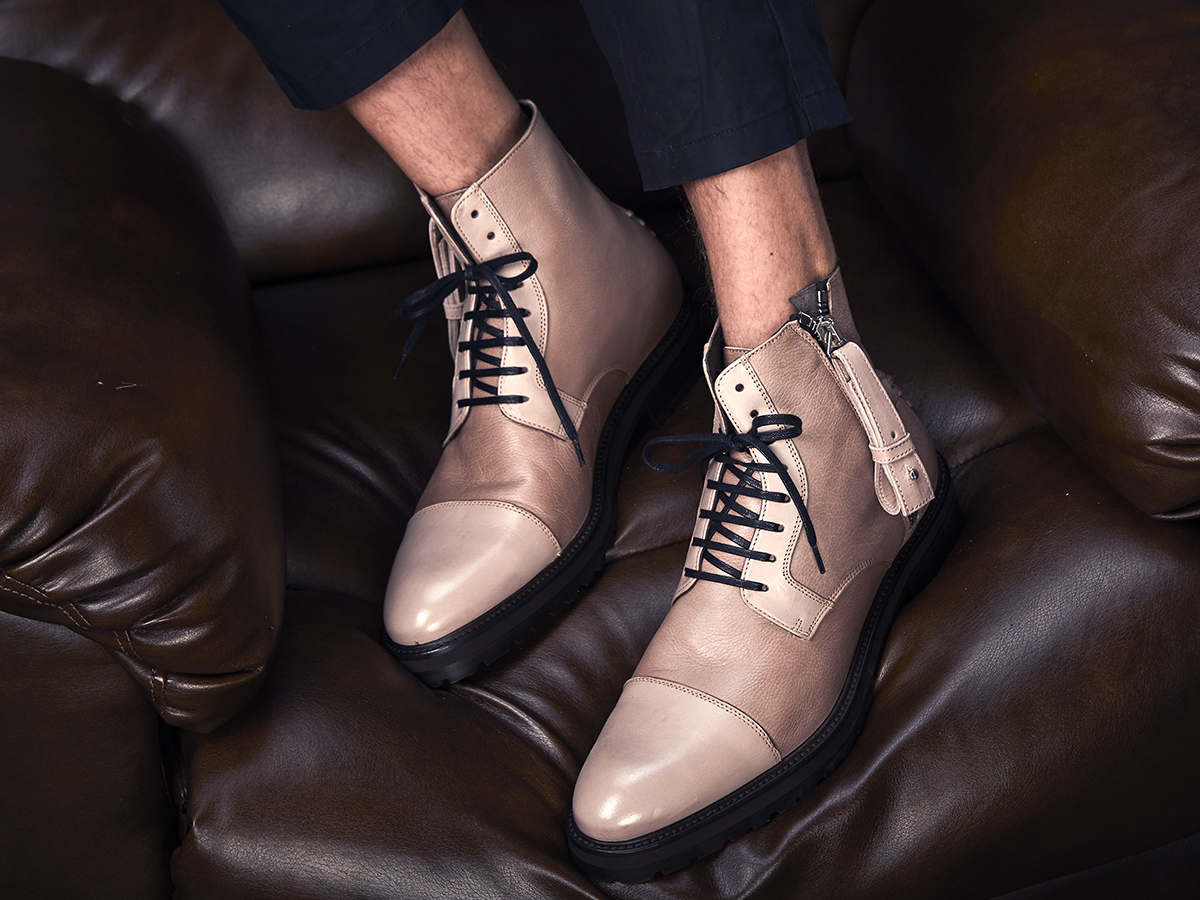 Men's Shoes: Pairing Boots with Suits
Thanks to evolving styles in both footwear and clothing, wearing military-style men's shoes gives you more options than ever before.
The shorter build is more akin to the Chelsea boot, which has traditionally been the go-to to wear with suits. This means that military boots are no longer off limits for semi-formalwear, so you can pair them with form-fitting or rolled-cuff trousers. They're also a practical option for casual and semi-casual affairs, pairing well with jeans or other slender-fit pants.
To complete the look, military-inspired coats make the most logical choice. Single-breasted or double-breasted jackets in varying lengths or leather jackets perfectly complement the combat boot style. Plus, since modern boots have expanded its color palette into browns, blues, greens, and tans, you've gone more options to make a statement.
London Men's Shoes with a Military Vibe
Boots remain one of the strongest symbols of military influence in modern London men's shoes and fashion. They're a piece of fashion that should be in the wardrobe of every gentleman who appreciates style, comfort, and versatility.
Vivvant London is proud to offer a fine line of military-inspired men's shoes. Every shoe is designed here in London and handcrafted in Florence for a shoe that's as everlasting as its style.
Explore our Military Boot collection today and elevate your wardrobe from the bottom up.