One of the many remaining vestiges of the Victorian era, the Chelsea boot is just as popular in London today as it was when it first emerged in the 1850s.
Back then, the stretchy elastic sides and top loop of fabric were revolutionary, adding comfort and convenience to the men's footwear industry. Today, it's one of the most common types of shoes in London closets and wardrobes around the world.
Chelsea Boots: A Look Back at London Men's Shoes
The original Chelsea boot style originated with Queen Victoria, who was said to have requested a pair of laceless boots that could easily be slipped on and off. Laces were common nuisances for horseback riders, and the design looks to eliminate the issue of shoes becoming entangled in stirrups while riding.
The name "Chelsea" didn't arrive until the 1950s or 1960s, when the boot began experiencing something something of a renaissance. This is the time when it became associated with King's Road, which is in located in the Chelsea borough in west London.
Around this same time, the Chelsea boot became the shoe of choice for global sensation The Beatles. The band breathed new life into the style by adding Cuban heels and pointed toes. Other influential stars like the Rolling Stones contributed to the popularity and became a large part of the "mod" culture of the time.
Modern London Chelsea Boots
Today, Chelsea boots remain a top London fashion icon. They're still one of the most common men's shoes, largely because they go with just about anything.
The style has given way to the Jodhpur boot, another popular type of footwear that offers fashion versatility and sophistication. In addition, this long-standing shoe remains synonymous with craftsmanship and quality, ensuring your purchase won't fail you on your travels.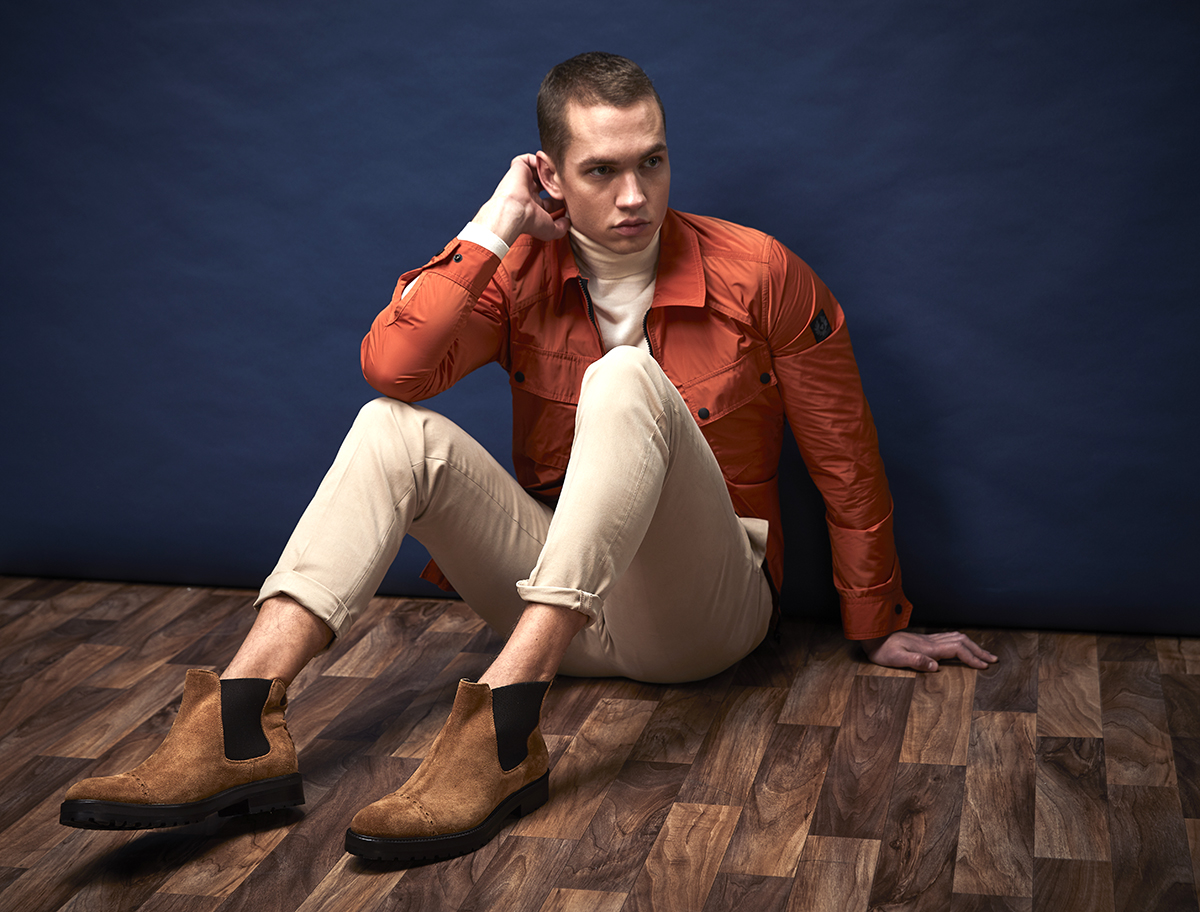 Chelsea Boots Style Guide for the Modern Gentleman
Chelsea Boots are among the most versatile of all London men's shoes, giving you plenty of ways to wear them.
In most cases, Chelsea boots will pair with most of the items you already have in your closet. Jeans, trousers, chinos, and suits can each provide the right aesthetic, along with sweaters, button-down shirts, leather jackets, and sports coats.
The most common choice for Chelsea boots is leather. This is the traditional choice and creates a smooth, polished look and feel. You can dress them up with dress pants or suits, or dress them down with jeans or other casual wear.
Black boots are always universal, but tend to lean more toward formal wear or semi-casual. Brown creates more of a laid-back vibe, while non-traditional colours like blue and dark green add elements of fun and mystique.
Suede Chelsea boots are common choices for semi-formal and casual wear, thanks to their textured looks and relaxed aesthetic. You can pair them with skinny jeans for a contemporary look or go "smart casual" with black pants and a sweater. Just remember that suede can be easily ruined if it becomes wet, so protect your shoes with a water-resistant coating to keep your shoes looking new.
In short, it all comes down to the occasion itself. Chelsea boots are welcome in almost every environment, and it largely depends on your purpose for dressing up or down when choosing clothing to complement your footwear.
If you're looking for Chelsea Boots, let Vivvant London help you upgrade your gentleman's style. Visit our online store for quality men's shoes and start building better style from the ground up.